Some affiliated links will be used in this blog post.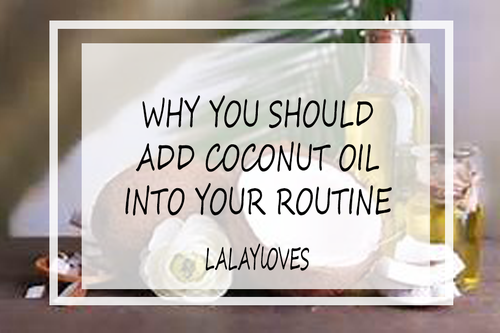 Coconuts are a wonderful thing to have in your life, especially coconut oil. I know loves you hear a lot of things about what coconut oil can do for you. Trust me I was like you once upon a time but I am so happy to have bought a whole jar of Raw Coconut Oil and use it in a month, and let me tell you the perks of having this beauty in your routine.
Hair
Coconut oil helps damaged hair. If your hair is suffering from dehydration or lack of shine. Raw Coconut oil can fix that. It also promotes rapid hair growth. You can massage it into your scalp and ends and watch your hair get thicker and stronger. You can also take an old mascara wand and dip the wand into a small amount of coconut oil (a little goes along way, you don't want oil in your eyes) and run it over your eyelashes and brows. I saw a major change in my hair and eyelashes just after 3 weeks!
Skincare
Coconut has made major change in my skin. First you can use it to remove makeup instead of other harsh chemical wipes. You just need a quarter size amount in the palm of your hand rub it on major caked up areas and wipe off with a cloth. Another method is use it on your body and face as soon as you get out of the shower it gets rid of stretch marks and dark spots as well as brightens dull skin. I had awful skin and saw major results after a month.
Of course I am on my second jar of coconut oil. I specifically get Raw or Virgin Coconut Oil I personally love Dr Bronner Coconut Oil if it is not labeled as, then it may have unnecessary chemicals that could irritate your skin. If coconut oil has changed your life or if you have benefited from this article then go ahead and comment below loves!